This year Asheville Jam is crafting a special and diverse experience for our Summer Jam!
We'll be weaving together our favorite dance forms to create a diverse, heart opening, and experience expanding event.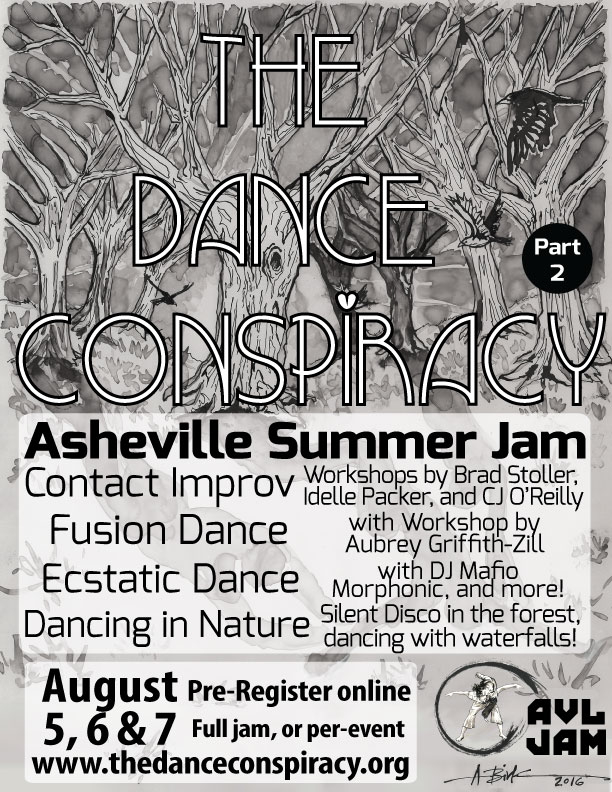 Fusion and Contact Improv on August 5th
Contact Improv and Contemplative arts on August 6th
Dancing with Nature – Silent Disco and Waterfalling on August 7th
2016
Registration
Asheville Jam supports our local dance community by making amazing events like these accessible to everyone! We offer sliding scale entry, so everyone can attend. We also offer scholarships, just contact us.
This event we offer registration both per-event (for those who can only attend one or two events), and for the whole weekend.
We recommend registering for the whole weekend.
Whole event*: $75-150
Per-event: $10-40 per block (~2 hours)
Dance Yer Nature (Silent Disco)*: $30
*Whole event registration does not include the Silent Disco. Dance Yer nature (Silent Disco) registration is separate, as there are a limited number of spots due to technology and space limitations. However, those not participating in the silent disco are welcome to join us in nature on that day for movement scores, picnicking and waterfalling.
Friday
Contact & Fusion
Workshop 1: Contact Improv Fundamentals
Taught by CJ O'Reilly
3-5:30pm
at Veda Studios
–Dinner Break–
Workshop 2: Partner Dance Fundamentals
taught by Aubrey Griffith-Zill and CJ O'Reilly
7-8:30pm
at Veda Studios
The Dance Conspiracy Fusion Social
8:30-12pm
at Veda Studios
Music by: DJ Mafio (Michael Hurd), CJ O'Reilly, and more DJ's to come!
Saturday
Somatic/Practice Focus
Sabotage I
Alexander Technique CI Workshop Explorations
with Idelle Packer and Brad Stoller
9:30-11:30am Workshop, 11:30am-12:30pm – Open Jamming
at NYS3
Sabotage II
Contact Improv Workshop and Jam
with Brad Stoller
1:30-5pm – Workshop and 5pm-6pm Open Jamming
at JCC
Synthesis Ecstatic Dance
Fusion + Contact + Ecstatic friendly set with Deco by Maurice Legendaire
DJ Mafio, DJ Morphonic
8-12pm
at JCC
Sunday
Moving with Nature
Silent Disco in the Forest
mixed and facilitated by May Sun and CJ
carpooling 10am at Earthfare
11am meet at trail head
to yet-to-be-disclosed location
Movement Score with Water and Rock
after silent disco
by the river
Choose your own adventure:
Forest Picnic
Hiking
Waterfalling and Swimming Hole
Blueberries